Sacombank (Cambodia) Plc. has launched a contest namely "Banking Contest – Easy to win" running from June 1st 2016 to December 31st 2016, which grants customers an opportunity to answer the provided questions on its official Facebook page. This platform was created in order to proudly show a broad range of banking products and services to the public, and it was also aimed to enable customers to comprehend their knowledge regarding Sacombank (Cambodia) Plc. "Banking Contest – Easy to win" has received a great interest from customers, especially from fans on Facebook. The number of participants in the entire program were 5,188 people, while the overall amount of interested fans were up to 14,523 people. Ever since the contest has launched, Sacombank (Cambodia) Plc. has hosted 7 separated monthly Lucky Draw programs to award participants with the best possible answer; the last Lucky Draw was on January 05th 2017 and the prizes were handed to winners on January 13th 2017. Each program was participated by Board of Management, Sacombank's staffs and honorable guests who are famous singer, actress and MC of Cambodia such as Mr. Sokun Therayu, Ms. Sophea Linda, Ms. Sok Somavatey, Ms. Ny Monyneath, Ms. Pin Tepi, and Ms. Mai Ya, who have made their appearance during the occasions respectively. The contest features a wide range of fascinating prizes including:
Grand prize: JBL Flip3
2nd prize: JBL Clip+ , JBL Headset , JBL Go
3rd prize: 2 movie tickets
And Rain coat as consolation prize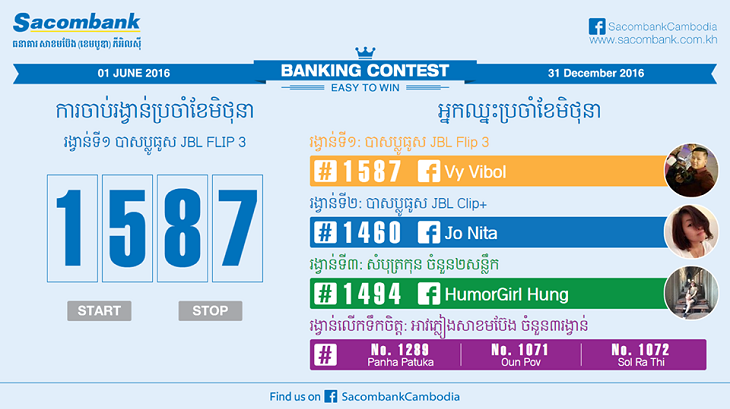 Sacombank (Cambodia) Plc. would like to thank to valued customers as well as fans on Facebook page for supporting "Banking Contest – Easy to win" program. Sacombank (Cambodia) Plc. promises to bring you more programs in 2017 to increase engagement between customers and the bank, particularly in order to grow together.